So, boys, what were you thinking of wearing on the glorious Festival weekend? Whilst the ladies have been seeking inspiration from a plethora of vintage eras, and glamorous divas…what were you going to choose?
Did you think of the Edwardian Dandy look from the turn of the century?
In the 1920s of course, there was the Jazz Suit, slicked-back hair and trilby look…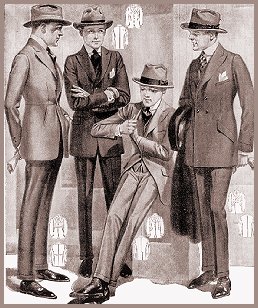 What about the Hollywood slick look of the 1930s? The Oxford suit or the Zoot suit…
The 40s brought various styles…from city-slicker…
To Zoot suits and wartime chic….
Or maybe into the 1950s? From wholesome Hollywoodiana
To the teddy boys
Or the 60s new look from the Beatles?
Up to you!!!